Back home, a few thoughts about Les Volcaniques and Paléo (see my previous post).
First Les Volcaniques: a week of immersion in the Bourrée culture: lots of dancing, including incredible workshops encouraging us to explore the existing dance repertoire and take part in its evolution; lots of music, for dancing of course, but also for listening, by musicians who have a passion for the music of this region; incredible meals, also rooted in the place. This week also allowed me to meet fantastic people and have wonderful dances, which I hope to find again on a dancefloor soon.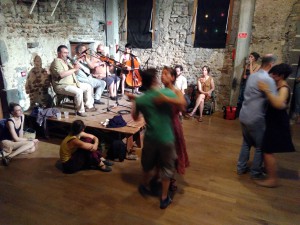 Then Paléo: tree mad days, between the few concerts I could listen to on the Dôme stage in the "Village du Monde" (this year centered around "celtic" music, which we often hijack with balfolk dances) and teaching and dances in the night, in a tower-tent (see picture) filled to the brim with people, a mix of dance and music enthusiasts, as well as those here for the good beers. The atmosphere was great, and bringing dancing to this kind of places is always a joy to me!